Publications & IEC Material
The Society has pioneered in publication of a variety of IEC material, particularly in Hindi, to fulfill the needs of authentic information in easily comprehensible language and style. "Jeevaniya", a popular bimonthly Health Care magazine was published for ten years (1989-98), both in Hindi & English as part of our Awareness Campaign to promote revitalization of Local Health Traditions & Traditional Health Systems. Though the magazine did become very popular, with more than 2000 subscribers and circulation across the country, its publication had to be suspended due to unavoidable reasons.
Jeevaniya Magazines in Hindi
Jeevaniya Magazines in English
Monographs
Hindi Translations of three monographs namely Local Health Traditions, Mother & Child Care in Traditional Medicine and Principles of Food & Nutrition in Ayurveda were published as part of the North Indian chapter of LSPSS. The monograph on Food & Nutrition received the Best Publication Award from Union Health and Family Welfare Ministry for the year 1996-97. The monographs have been very well received by the common man and the experts alike.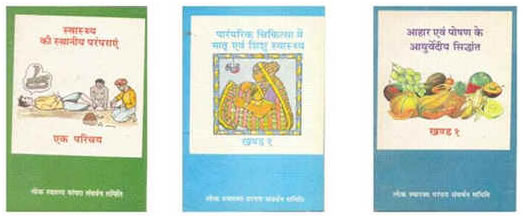 Booklets, Books & Posters
We have published several booklets on various themes of Health Care and Science in Daily life. The booklets in Hindi have been published as part of a project from NCSTC, Department of S&T, GoI to promote science writing in different styles. Several of these booklets have been reprinted and translated in English also. Several reference books containing information on MAPs, their availability, potential, cultivation, medicinal properties & uses etc. have been published as part of our campaign to promote their use in Primary Health Care & Income Generation. Another reference book on the Status, Availability and Potential of MAPs in North India was published for CAPART. A booklet on the use of kitchen spices and one on using 51 Medicinal plants in MCH and in primary health care have also been published.
Booklets on Science in Daily Life
Posters in Hindi & English
A training manual for organic cultivation of medicinal & aromatic plants, their processing & marketing has also been published by the Society. A Training manual was also prepared for setting up Biodiversity Herbal Gardens in Schools as part of a NCSTC supported program.
The Society has also translated several books published by Ministry of Health & Family Welfare (MoH&FW), besides those published by several voluntary organizations and other institutions. One of the books translated by us was adjudged as the best in its category by the MoH&FW, in 1998. Several Conference reports and souvenirs were also published by the Society.