A Resource Centre was set up in October 2014 at Kukura village of Malihabad (Lucknow) on Hardoi Road for location specific experiments in Holistic Development in a cluster of villages around. This centre is expected to work in the areas of Holistic Health, Agriculture, Education & Skill Development and Rural Technology for sustainable development with an approach of Ubhay Samridhi. Based on its own experiences and sharing the experiences of such other experiments, to synergize their strengths for sustained collective action, the Centre is expected to eventually work as an Information, Education, Communication, Training and Research Institution in all these areas with the concept of 'Local Action with a Broader Vision', largely in Hindi speaking north India.
While undertaking an interactive survey of the community and the local institutions involved in similar activities, some programs on Organic (Chemical free) Agriculture, Health, Environment and Education were initiated. It was proposed to initially set up Models of such Organic Farms & Orchards where the farmers could see for themselves viability of the technological options. It was also felt necessary to create a network of such rural producers with urban consumers as well as service providers. Thus, most of the programs followed up in this phase were on setting up a Model for promoting organic cultivation and marketing of such produce to improve the livelihood of farmers on one hand and ensuring availability of poison free food to the consumers. The programs of health and education have been kept at a low key for want of a proper team for the same and funds to undertake meaningful programs in these areas.
A Cowshed has also been constructed with a partition for storing the fodder. The production of cow dung and urine based agri-inputs are also being undertaken here. A laboratory for conducting soil analysis and other activities has also been established. Besides, our steam distillation plant has been brought from another site to be installed at the Centre. Fencing of the campus has also been done to ensure safety from wild animals and undue trespass.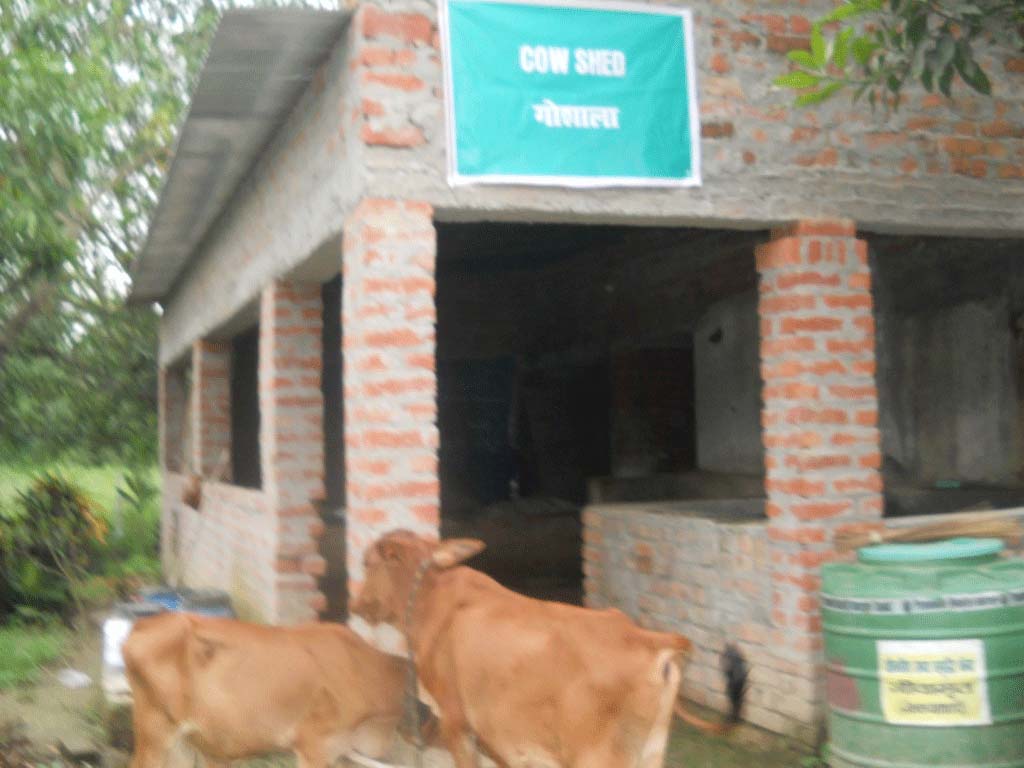 Cow Shed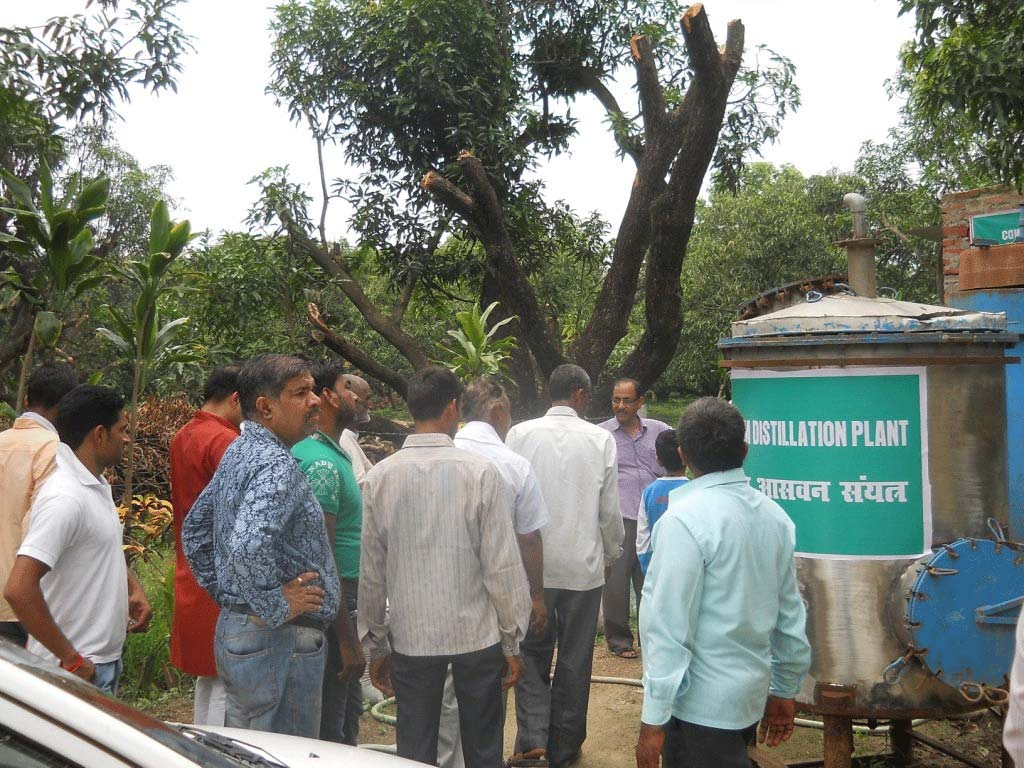 Steam Distillation Plant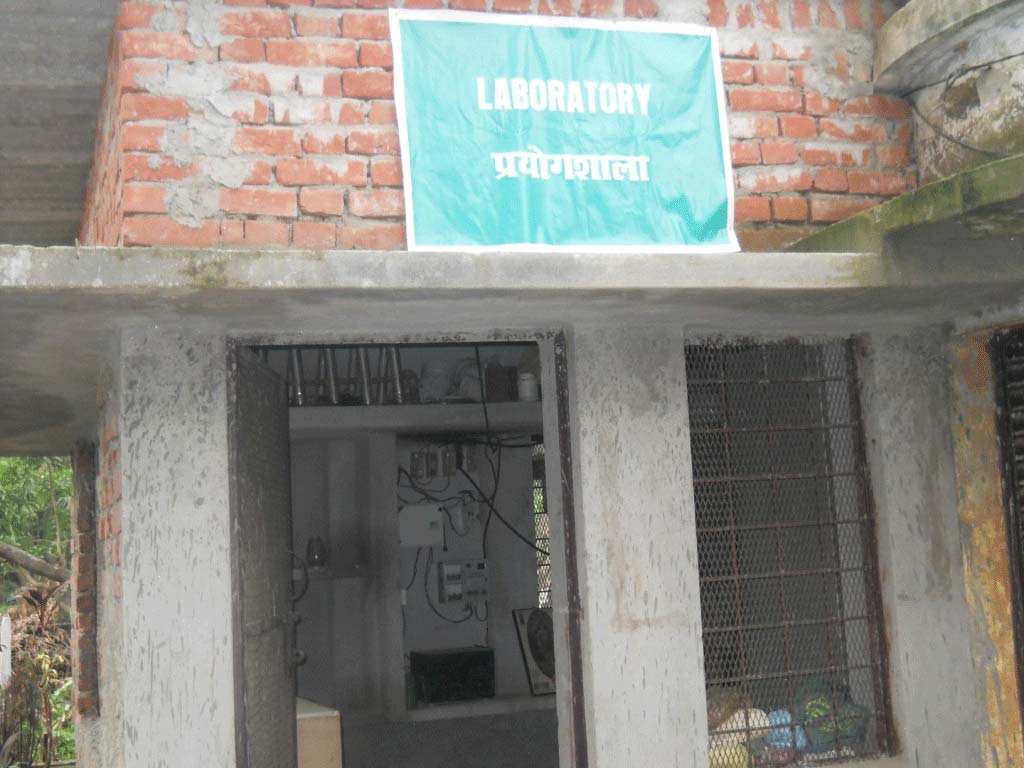 Laboratory
Workers' Stay, Storage & Cowshed at Budhadia Terai:
Since organic cultivation of vegetables (and other crops) has been undertaken in an intensive manner in this farm of about 5 Acres, it was necessary that some staff would stay there to manage and save the crops, besides having a store to keep the implements and temporarily store the produce etc. Since the bullocks are mostly required at Budhadia, a cowshed had to be set up there with a facility to store fodder.
Utilities:
A bullock driven water pumping unit has been installed and has become operational. A grinding machine, oil expeller and chaff cutter is also proposed to be attached to this bullock driven unit. A small size water lifting pump has also been procured for large scale irrigation at Budhadia Terai from the rivulet. A Vermi-compost and vermi-wash unit and Azolla production has also been set up there, besides pits for layer composting and preparation of liquid manure from agri-waste.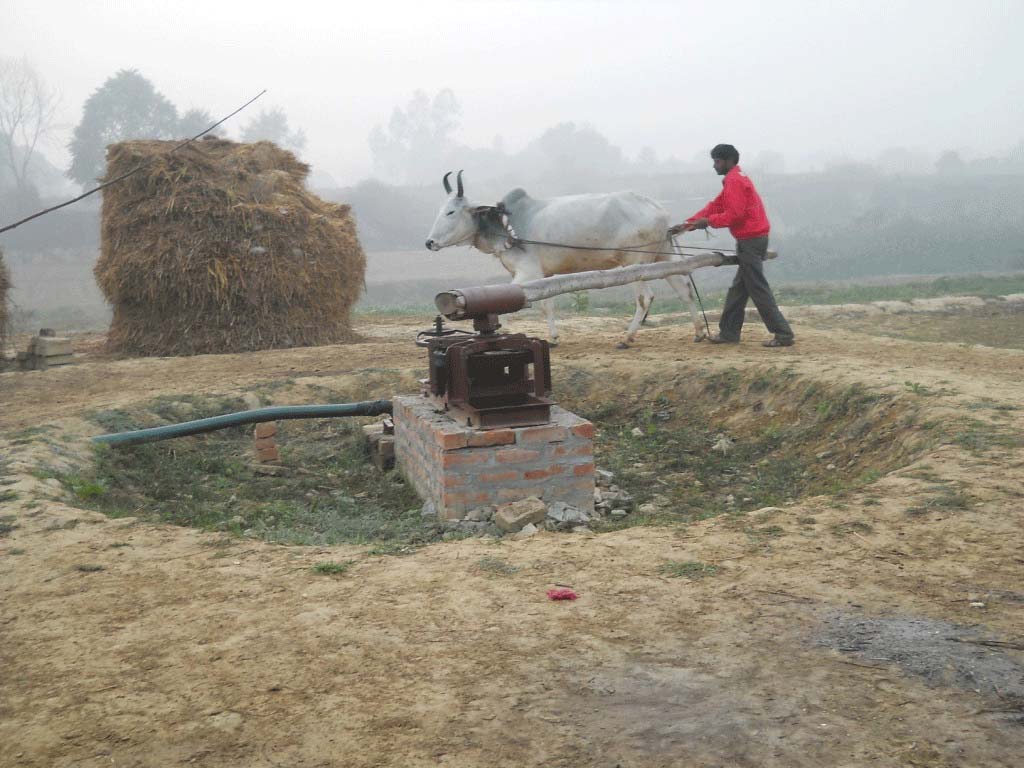 Bullock Driven Water Pumping Unit
Bullock Driven Water Pumping Unit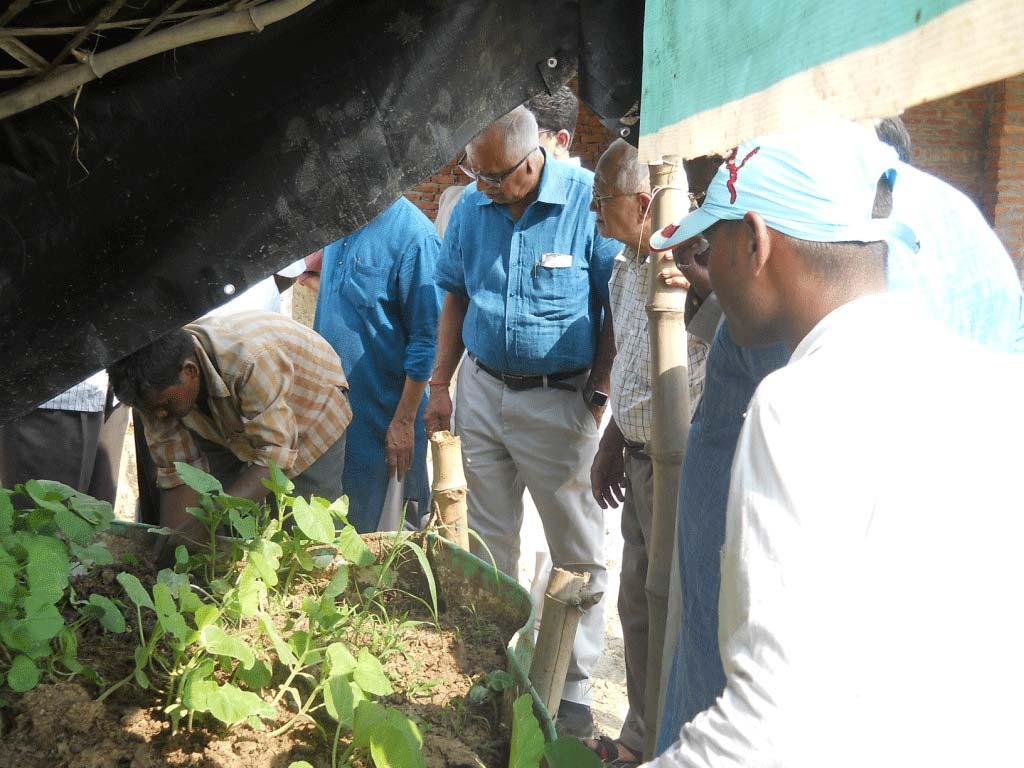 Vermi Compost
Two Smokeless Chulhas have been set up at the Kukura premises, besides one set each of Solar operated lights & fan units have been procured for both the campuses. Some solar powered torches have also been procured to help the staff. An Inverter with Battery has also been procured for the Hall because the electricity supply is very erratic and use of diesel operated generator (available with us) is very expensive for simple light and fan or computer/projection requirements etc.
Besides procuring a pair of bullocks for cultivation, a couple of indigenous breed cows have been donated by well wishers to help in the organic farming activities. A bullock-cart has also been procured to help transport agricultural produce & inputs. An old Maruti Gypsy van and a mobike have been procured for field work and transporting the vegetables and other produce to the market and for 'Home Delivery' program.
Team HR:
Besides a retired Office cum Accounts Assistant, already engaged with us, two young graduates have been engaged for undertaking cultivation and contact campaign and outreach program in the villages. Another Graduate has been engaged to help in the marketing of produce. A driver has also been engaged to help in the marketing and procurement work. An elderly couple from the village has been engaged on a regular basis for looking after the Kukura campus as well as the cattle and they stay on the campus. Another local couple has been engaged for stay and agricultural operations at Budhadia Terai area. Besides, many volunteers help in specific programs.
Thus, we currently have a regular staff of ten persons, besides daily wagers who have to be engaged to help in the agricultural operations or other work. However, we require at least a senior coordinator besides a vaidya/health professional, if we have to start the health work in some regular manner. A couple of volunteers of Art of Living have been staying at our centre to conduct Yoga & Meditation sessions with local people, particularly the youth. They also organize various Satsang and value education programs through our joint contact and outreach activities. The volunteers are also learning about zero budget farming and cultivation of MAPs to help promote the same in the area.
Activities Undertaken:
While our current focus is on agriculture, a Plantation drive was undertaken in July 2014. Interactions with local Community, their leaders and City Experts were organized on 15th August 2014 and 2015 after the Flag Hoisting. Some interaction with local schools had also been undertaken.
The First Health Camp was organized on 5th Oct. 2014 where physicians from several leading medical institutions and individuals offered their free services. While more than 600 patients were benefitted by the camp, follow up by way of about 20 cataract surgeries and cleft lip surgery of children was pursued. A large number of people's representatives from the region, led by the Kukra Village Pradhan Mr. Jitendra Shukla and Sri Mumtaz Ahmad, the President of Malihabad Pradhan's Association representing more than 50 village Panchayats, also attended the camp. A large number of volunteers associated with Jeevaniya Society from the nearby areas as well as Lucknow city offered their services in conducting the Camp. Discussions have been conducted with the National Centre of Telemedicine at SGPGI, Lucknow to jointly develop a telemedicine program for AYUSH.
A Sharad Ritucharya Health Camp cum picnic was organized on 18 October 2015 for many of our patrons who also visited our field centres. Sharad Ritu charya was discussed by prominent vaidyas for appropriate food and health practices during the ongoing season. Over 100 participants took part in the program while some got their temperament (Prakruti) tested and others got the consultation from senior vaidyas like Dr N D Mishra, Dr Vachaspati Trivedi and Dr Ashok Bhagat for their health problems. Senior Hakims from TT college namely Dr N A Ansari and Dr Shoaib Ahmad also gave their advice.
Cultivation of MAPs:
A Campaign has been initiated jointly with the Directorate of Horticulture & Food Processing of UP Govt. to promote cultivation of MAPs in the mango orchards. The Society has been identified as one of the major Nodal Agencies for helping in the implementation of this Program of the State Govt. We have, however, limited our major involvement only in the neighboring districts of Lucknow Division. Our team has attended Meetings with interested farmers in Lucknow, Sitapur, Barabanki, Faizabad, Akbarpur & Hardoi districts to offer help in providing the planting material, agro-technological guidance to the farmers and sale of their produce. Farmers, particularly Mango orchard owners in the region, have shown a lot of interest in the cultivation of medicinal and aromatic plants. We are networking with the State Medicinal Plants' Mission to help the farmers and orchard owners.
About 10 varieties of medicinal & aromatic plants (MAPs) are being cultivated in the Mango Orchard at Kukra. Some of these MAPs are being grown in large enough quantities to encourage their marketing and help ensure economic sustainability. Some more planting material of these MAPs is also being multiplied to provide the same to other farmers. Some harvesting has also been initiated for marketing the produce to generate confidence among the farmers in the region.
Networking:
We are trying to build a reasonable network with governmental as well as Non-governmental organizations in relevant areas. While we have an ongoing collaboration program with Indian Agricultural Research Institute (IARI), Delhi for promoting their latest technologies and seed varieties among local farmers, we have been able to establish an active collaboration with the Central Institute of Subtropical Horticulture (CISH), to help the mango orchard owners switch over to integrated pest management and organic conversion of the orchards besides value addition of their produce. We have also signed a MoU with Central Institute of Medicinal & Aromatic Plants (CIMAP), Lucknow for helping our farmers and setting up demonstrations of their technologies.
We are also getting necessary help from the National Botanical Research Institute (NBRI), Biotech Park, State Institute of Management in Agriculture (SIMA) and State Medicinal Plants Board Lucknow, Indian Institute of Management etc. Besides, we are also collaborating with some private/non-governmental institutions and individuals to initiate these programs.
Organic Cultivation and Demonstration Food Crops:
Cultivation of an indigenous variety of Paddy namely Kala Namak and several varieties of IARI, Pusa, New Delhi, besides Moong, Urad and Maize had been undertaken in Kharif. Organic cultivation of several seasonal vegetables, pulses (Moong, Urad, Masur, Arhar, Matar & Chana), oilseeds (Mustard, sesame and Flag seed) and cereals (Wheat, Barley & Oats) had also been undertaken with the help of bullocks and inputs from indigenous breed of the cows. However, the vagaries of nature in the past year have eventually resulted in poor yields and losses in most crops though our losses are comparatively lesser than of those farmers using chemical inputs.
We had more than 12 Qts of Organic wheat, 1.5 qtl of mustard seeds, 50 Kg of Lentil, 10 Kg of flag seeds. Besides, more than 10 Qtls of potato, 4 Qtls of green pea, 5 Qtls each of tomato and radish, 2 Qtls each of carrot, sarson sag and spinach, 3 Qtls of Lobia, 1 Qtl of French Beans, 8 Qtls of Kaddu and 20 Qtls of Lauki has been cultivated and marketed/supplied. Regular supply of many seasonal vegetables including Dhania, Pudina, green chillies, cauliflower and cabbage etc. has also been continuing since Dec. 2014. Besides, 4 Qtls of potato kept in cold storage has been taken out for use as seed.
A large number of local farmers are showing interest in the experience. Networking is being done with local farmers to spread this work and undertake marketing of their organic produce. Several farmers are regularly visiting the Hub for interactions and some farmers are being inducted in the Network. Self Help Groups/Farmers Producer Organizations are proposed to be set up for cultivation, processing & marketing of the agricultural and medicinal plants' produce. It is expected that this activity should be able to generate enough returns within 5 years not only to break even but also generate some surplus for continuation of the program.
Revenue Generation & Marketing the Produce:
While negotiations were finalized with Spencer's as well as two other local chains of stores for marketing of our fresh organic vegetables and other products but our experience (and limitations of adequate stocks for regular supply chain management) suggested that we limit presently to Direct/Network Marketing.
We have been able to generate revenue of > Rs 56,000 in Nov.-Dec. 2014 and > Rs 1,50,000 during Jan-Mar 2015. While the revenue due to sales/supplies declined to about Rs 80,000 during Apr-Jun, and Rs 48,000 during July-Sept, 2015 (also for reorganizing our logistics). We expect the sales/revenues to pick up with our revised strategy and networking. (It actually reached more than Rs 3.35 Lacs during Oct.- Dec., 2015). Besides, we have also invested > Rs. 50,000 worth of supplies for promotion and to our donors & current stocks are worth > Rs 50,000. Our revenues from supply of MAPs have not been able to pick up due to delays in our outputs and effective induction of farmers in the network but are sure to increase in the coming year. However, we have learnt many lessons in Organic cultivation (particularly pest management), storage and supply systems.